Back To Our Services
Wrought iron or steel gates can add a functional, but appealing element to the landscape of your home or business. They range anywhere from the simple and understated, to ornate, classically elegant works of art that create a striking visual introduction to your property. The right gate is a statement to visitors and neighbors, and a wonderful accent to any home.
In addition to their esthetic value, these gates can play an important role in maintaining the security of your house or office. With the right design, not only can they be an imposing deterrent, but their sturdy construction prevents any would-be trespassers.
The only problem is, when something goes wrong, it isn't always easy to repair it yourself. Common issues with these types of gates include loose rails, faulty locks, unstable foundations, or elemental damage. Whatever the cause, a broken gate can be a major hazard and liability to you or your business. It is important to protect yourself by making sure your gate and fence meet all necessary safety regulations in your state or industry.
Gate Welding Services by Experts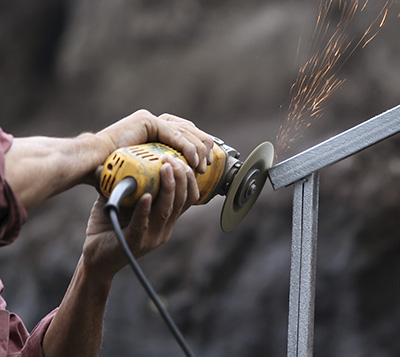 Rather than adding another chore to your list, call the experts at "Gate Repair Yorba Linda". We specialize in repairing iron and steel gates, no matter what issues you are having. Trust the professionals and ensure that you receive the absolute best gate welding services available on the market. Our friendly, knowledgeable staff will help you through every step of the process of getting your metal gate as good as new. We will provide a thorough inspection of your gate to assess any problems you may be having. The hinges of your gate endure the most wear and abuse of any of the other elements of your gate. That is why hinge welding repair is such an essential part of the service we provide. Make sure that your gate will lock and close correctly for your safety and peace of mind.
Want to add a unique, eye catching centerpiece to your property? Gate Repair Yorba Lindacan also fabricate or repair components of ornamental iron gates. Give your property a touch of grandeur and style with a custom decorative wrought iron or steel gate. It is the perfect addition for your driveway, garden, or walkway. Also, you can choose from a variety of decorative options, including rings, spear points, or geometric patterns. We can modify any existing fence to the specifications you want.
As important as the appearance of your gate is, the safety of your home or business should be your top priority. We provide both residential and commercial gate services to establish that your gate is doing the job it is intended to do, namely providing a secure barrier or checkpoint onto your property. Adding decorative, yet functional spear tips to the top of your gate can daunt potential intruders. In addition, we can find and replace weak or rusted areas of your gate, maintaining the integrity of your fence.
Visit our website or call us today for more information and to schedule an appointment.
Keep your wrought iron gate looking beautiful and secure by giving us a call today!
Back To Our Services